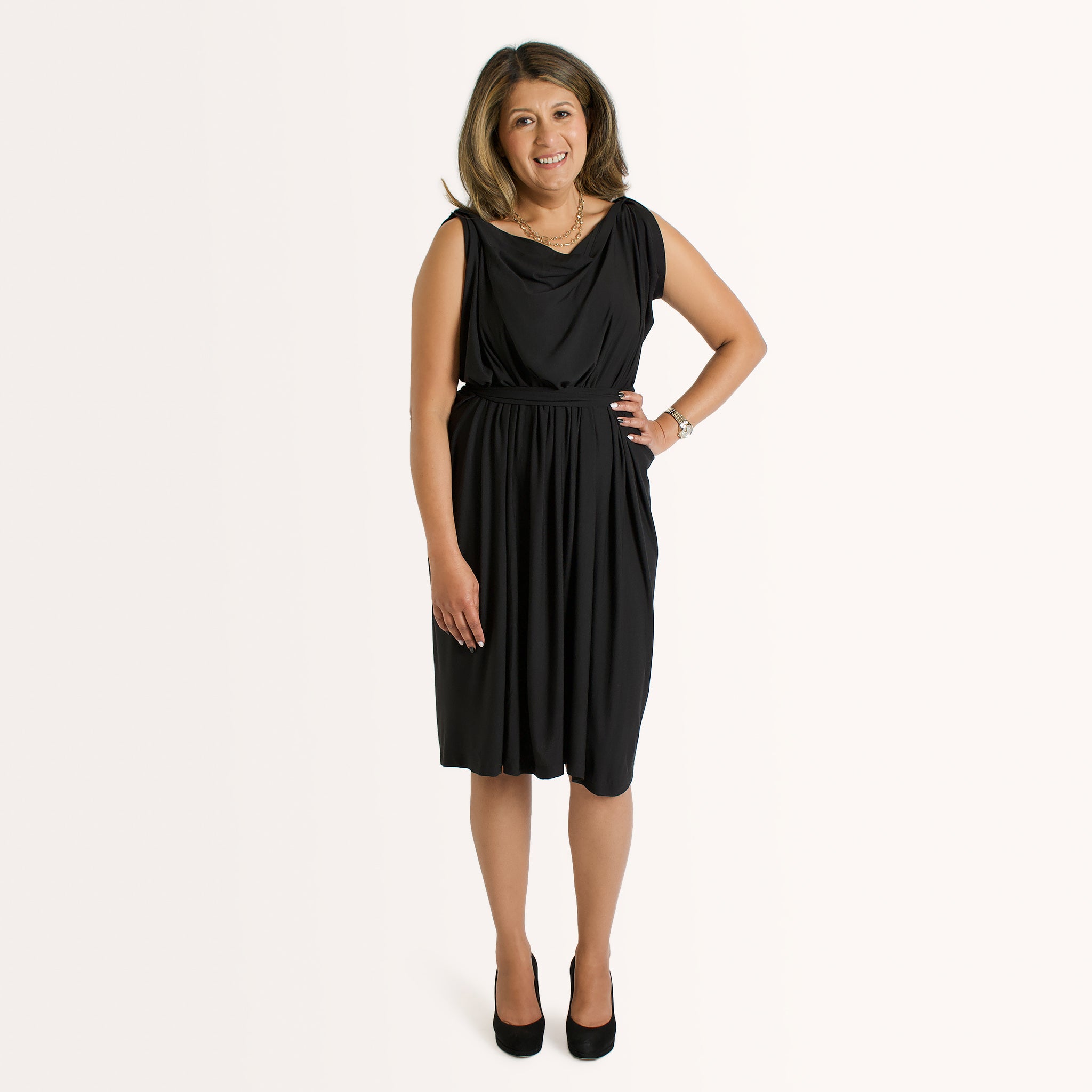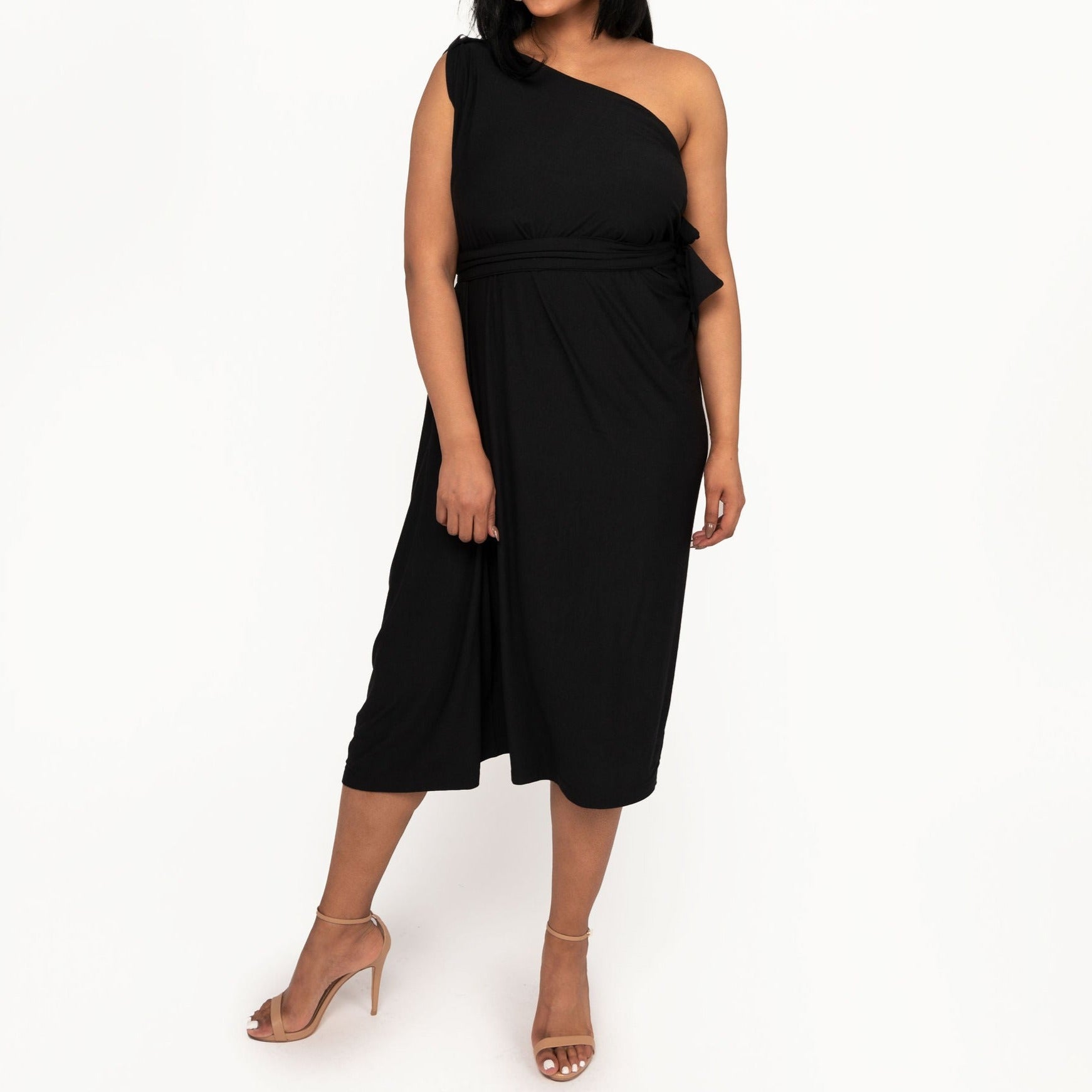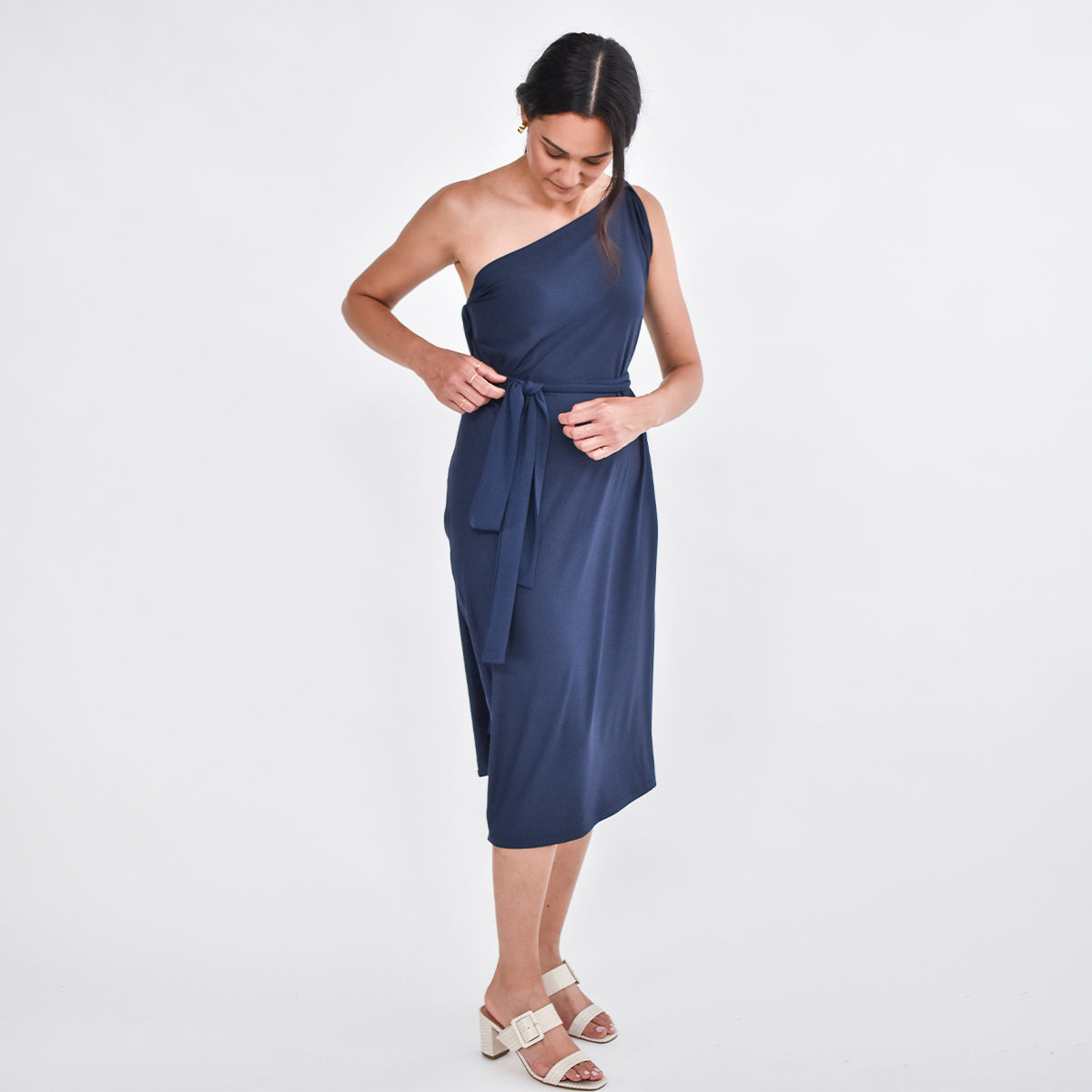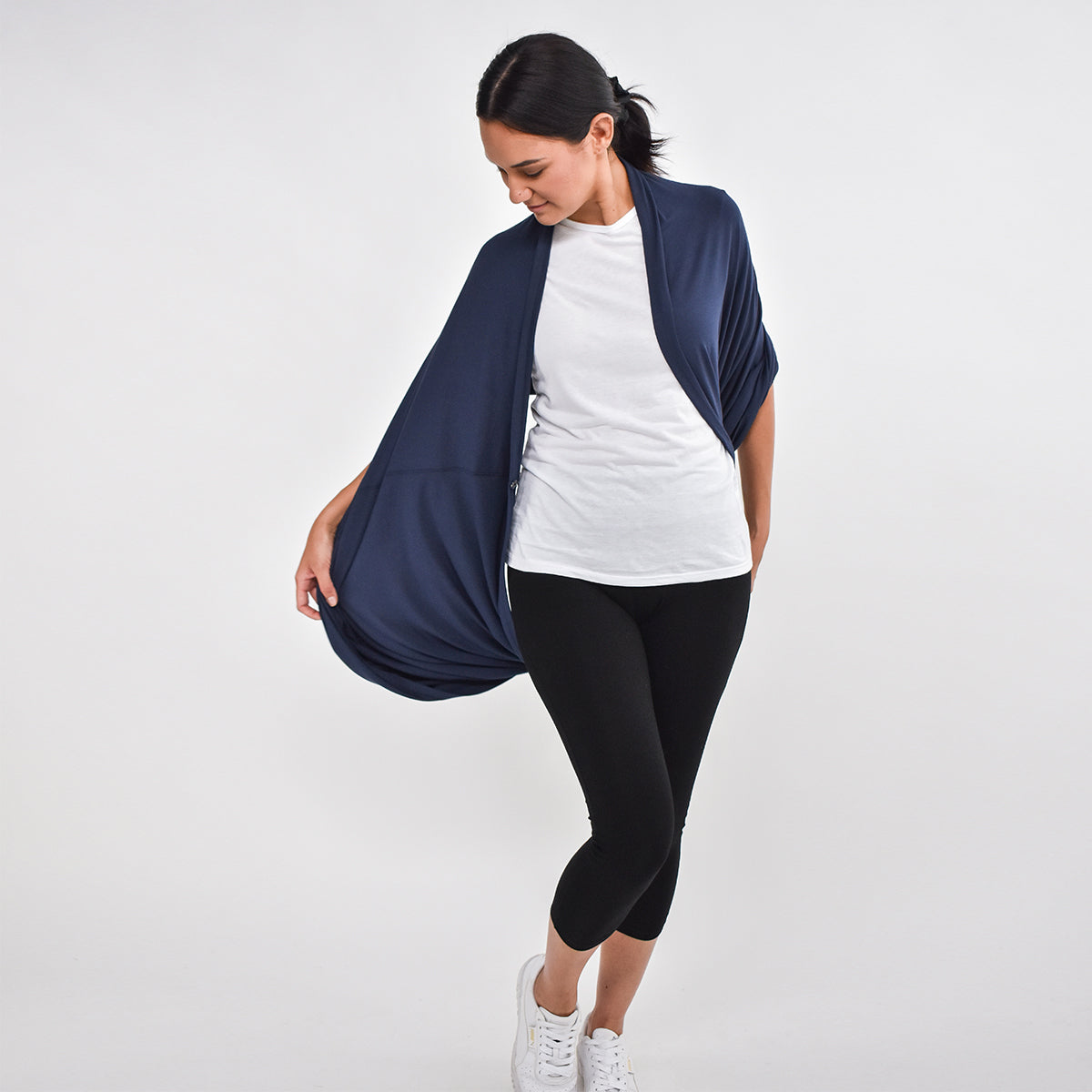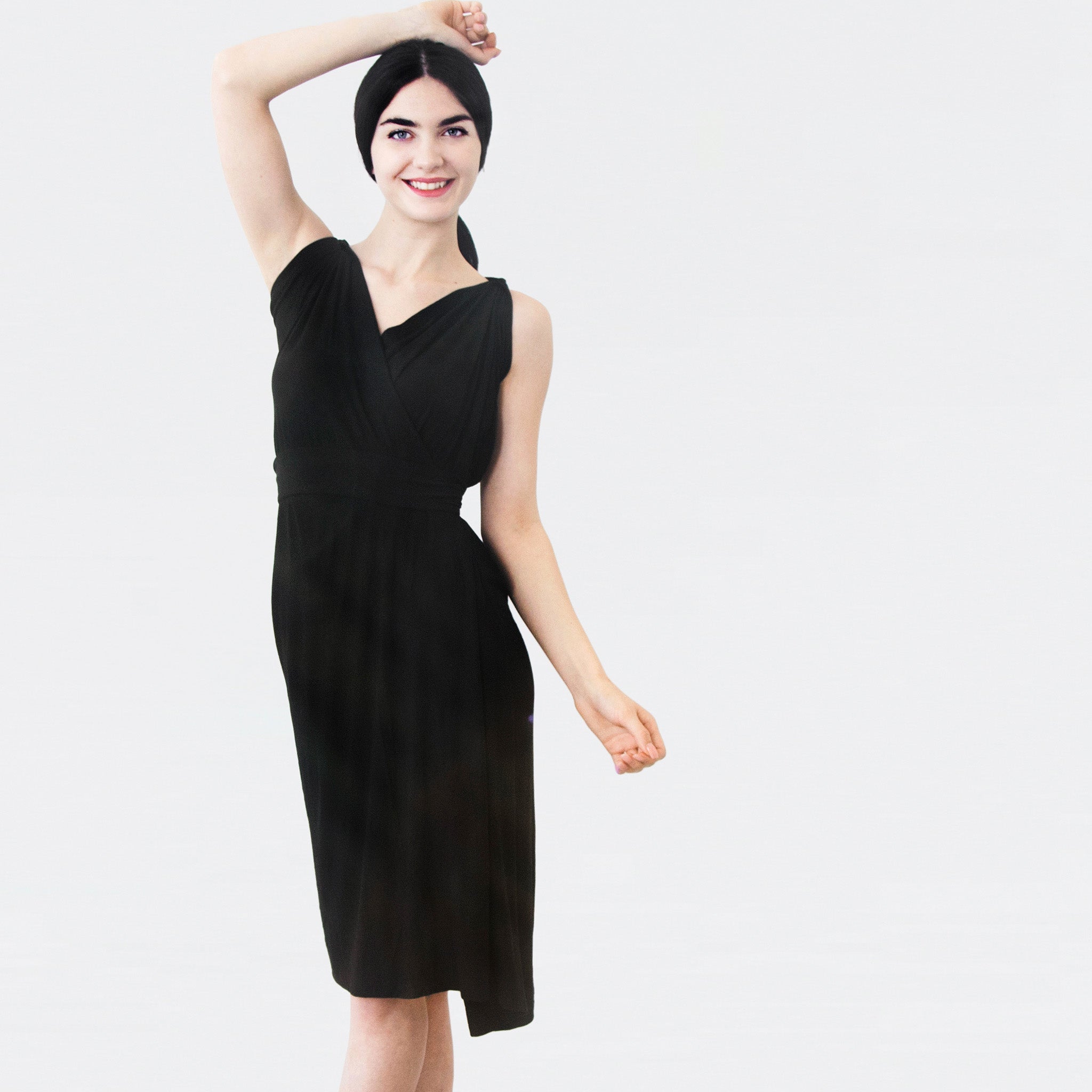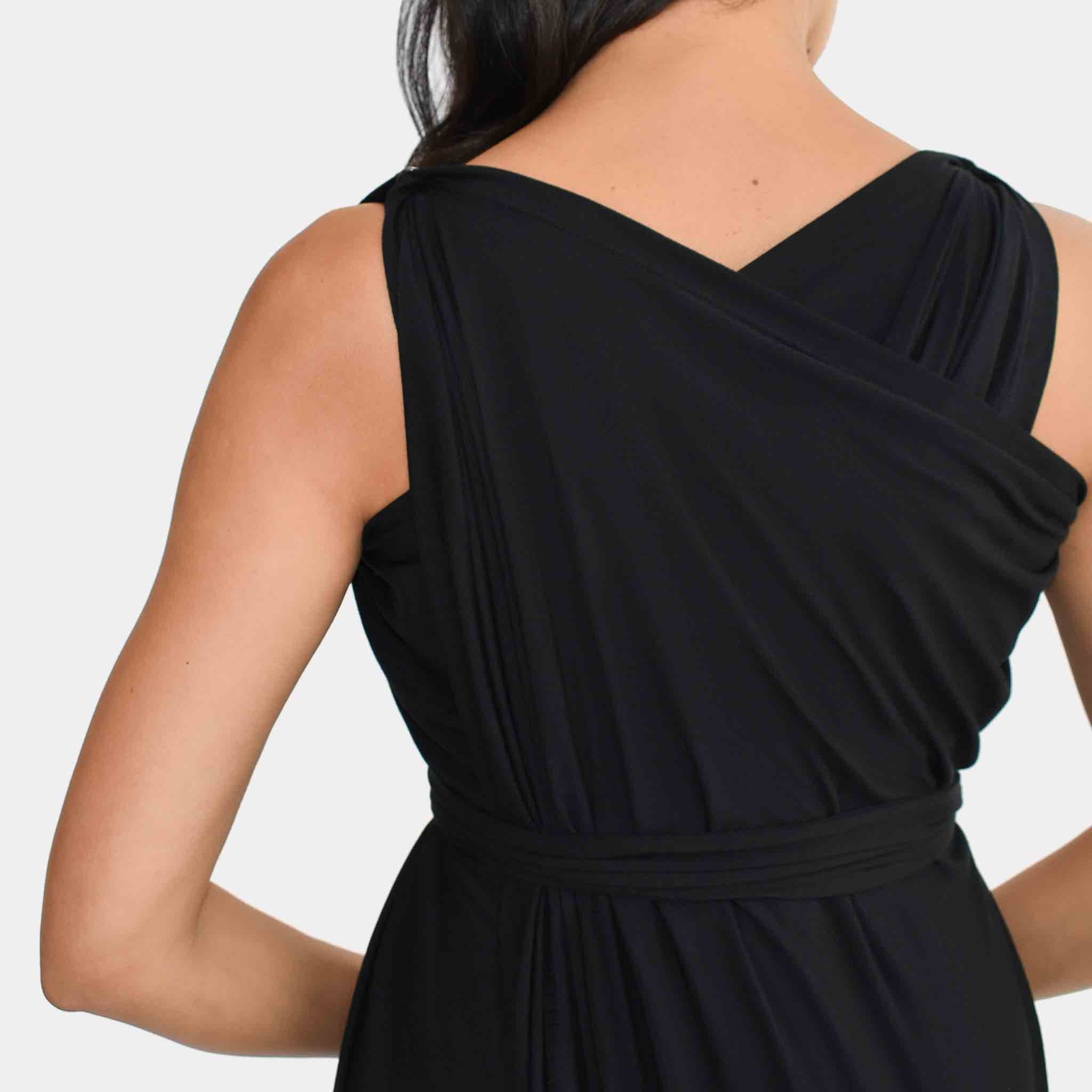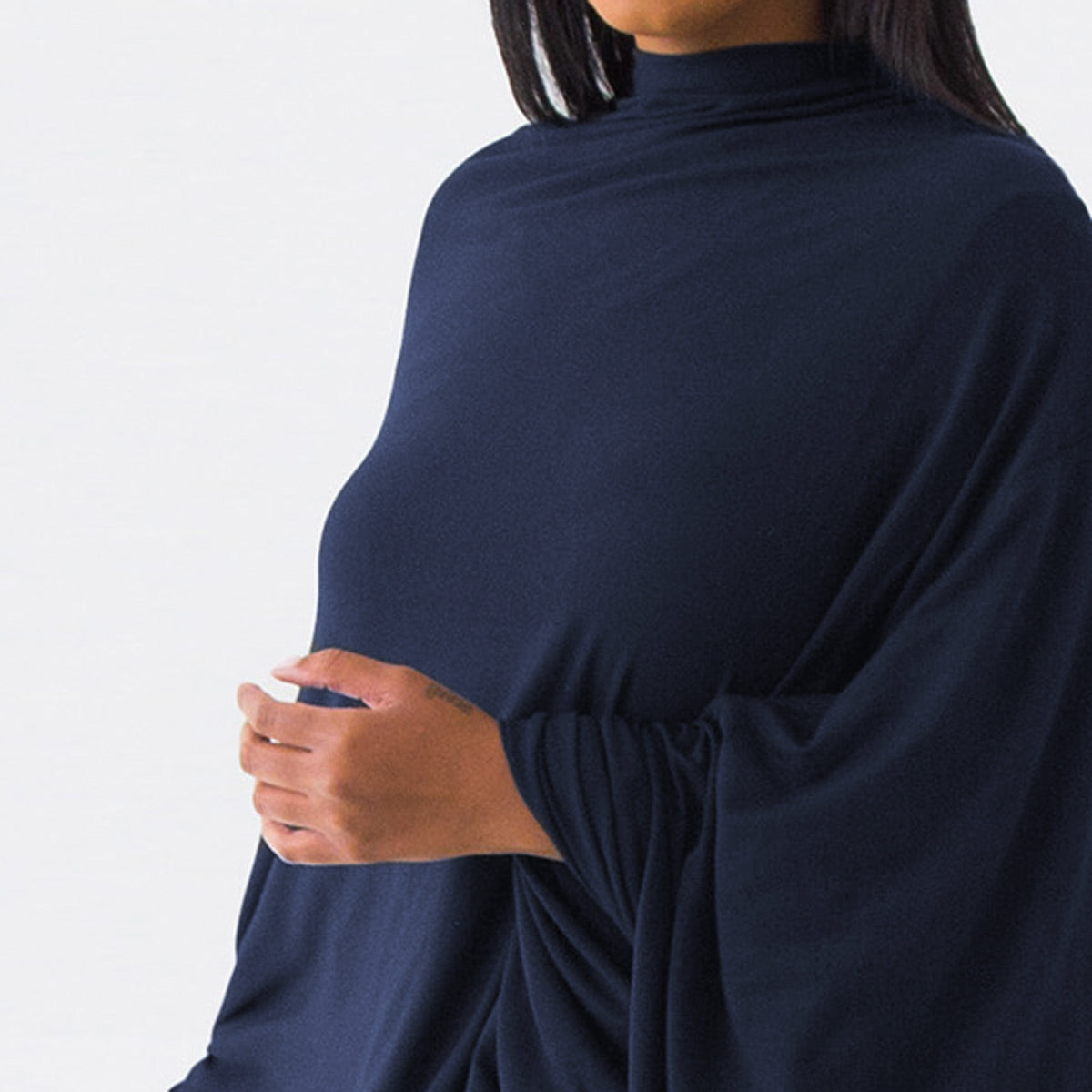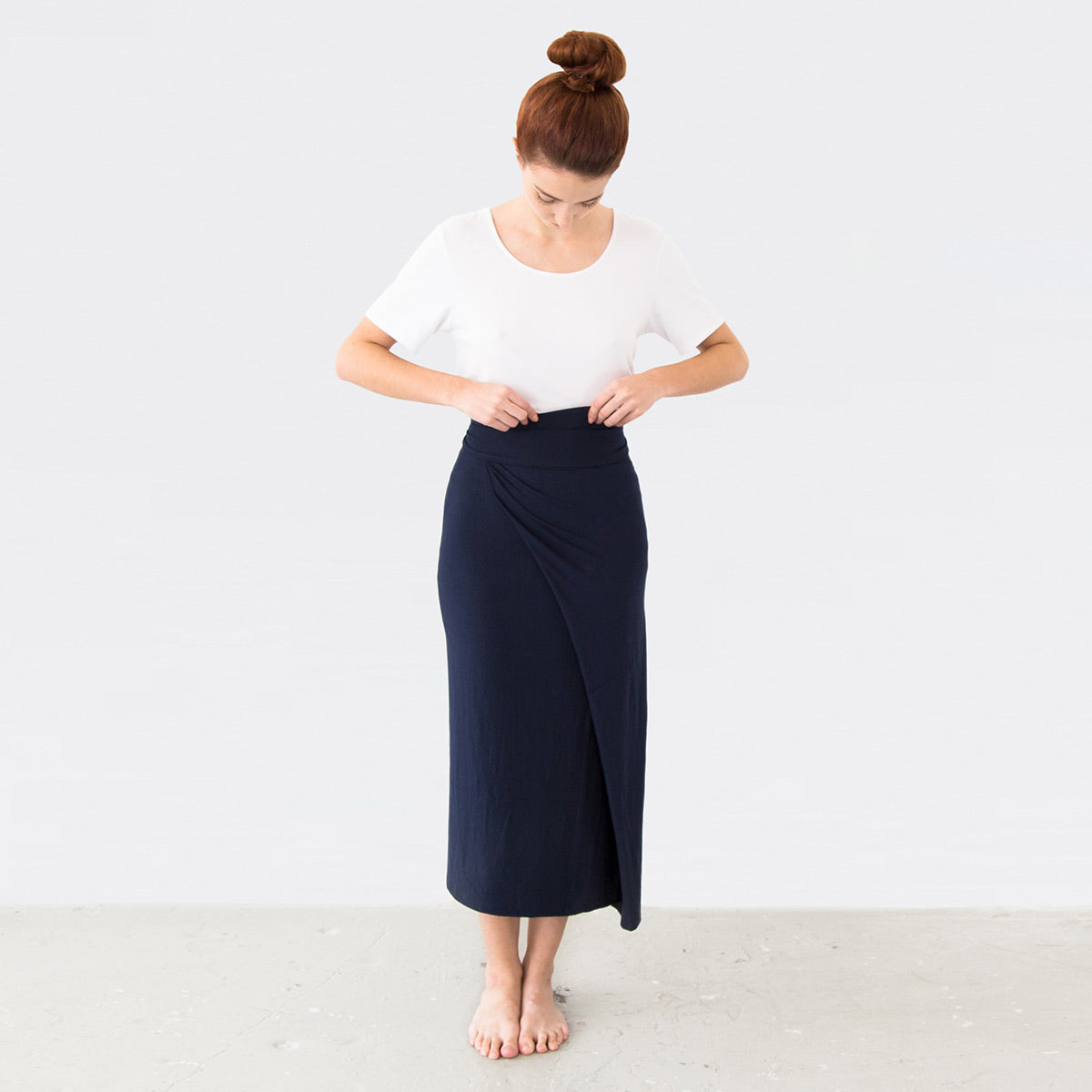 "Fun, Flowy, Fashion! Great quality and versatile piece! Highly recommend. Customize to suit your personality, or occasion. Dress up, dress down. Beautiful fabric." - Sull
Description
Details
fit
Fabric
From the boardroom to the beach to brunch, our Chrysalis Cardi can take you there. With 8 completely different styling options, this sustainable staple will help you refine your wardrobe without refining your options. Check our fit recommendation to choose the right size.
8 garments in 1! Thanks to the hidden hand-sewn metal snaps that hold your look together. This is our first ever design from Encircled, and truly a unique piece.

Comes with a belt made from sustainable fabric.

Includes a printed look book with instructions on how to wear each style.

Due to the stretchy soft fabric and customizable fit, see size chart to get your perfect fit.

Sustainable, ultra-soft opaque fabric.

Ethically-made in Toronto, Canada.
Petite: Perfect for women of any height from sizes (XS-M). The design will also work on women larger than this size but who just prefer a shorter silhouette when styled as the dress looks.

Medium: Perfect for women of any height from sizes (S-XL). The design will also work on women smaller than this size but who just prefer a longer silhouette when styled as the dress looks.

Maxi: Perfect for women of any height from sizes (M-XXL) or those with a broader frame in the hips or chest. The design will also work on women smaller than this size but who just prefer a longer silhouette when styled as the dress looks.

If you are in between sizes we recommend you sizing down.
The fabric is a blend of Lenzing Modal® | Spandex

Modal is a naturally derived, plant-based fabric cultivated from beech-tree pulp which is sustainably sourced in Austria, and neighbouring countries. Modal is made through an environmentally-conscious process where 95% of water and materials used to make the fabric are recycled. The fabric is also OEKO-TEX® Standard 100 certified which means it is free of harmful chemicals. This soft and drapey fabric feels beautiful against your skin.
Snaps are made from high-quality, rust-resistant metal. They're lead-free, nickel-free and recyclable.
Free Shipping on orders $200+
Sustainably-made in Toronto
Certified B Corporation™️
The 8 Ways to Wear The Chrysalis Cardi
The ultimate convertible travel dress, cardigan, scarf and more.
Model's Measurements
see it in your size
In Petite: Farrukh, shown in Black, Cinnamon and Forest Green, is 5'3", size 2-4. Shannon, shown in Royal Blue, is 5'7", size 0-2 . Isabel, shown in Plum Purple and Sapphire Blue, is 5'10", size 2-4. Daria, shown in Navy Blue, is 5'5" size 0-2.

In Medium: Erica, shown in Navy Blue and Black, is 5'9", size 4-6. Ashley in the Royal Blue is 5'7"/size 4-6. Kristi in the how-to videos is 5'9"/size 6-8 wearing size Medium.

In Maxi: Sheen in the Navy Blue Maxi and Plum Purple, is 5'8"/size 14-16. Chin in Black is 5' 9" size 10. Adriana in Cinammon and Forest Green is 6", size 4.

How to videos: Kristi is 5'9" (Size 6-8) and wearing the Medium Chrysalis Cardi.
Care Instructions
how to care for your encircled cardi
We recommend that you hand wash the Chrysalis Cardi. Hang to dry or lay flat. You may put the Chrysalis Cardi (with snaps undone) in a mesh garment bag in the washing machine on the gentle cycle. Do not put in the dryer and do not dry clean.
Shipping & Returns
FREE SHIPPING ON ORDERS $200+
We offer several shipping methods to get your orders to your door on time. If you want to upgrade package speed, insurance or tracking, please select an alternate method at checkout.

We aim to ship your order within 2 business days. However, during busy periods this may take longer. If you have selected faster shipping, your order will be shipped the same day.
EASY 30-DAY RETURNS
We understand that sometimes things don't quite work out. That's why we offer a full refund or exchange on new, unworn merchandise provided that we are notified within 30 days of receipt of the product except for final sale/markdown items which are non-returnable.
Love these for travel
I love how versatile this dress is. Also, it's the only dress that comes in petite. I tried other encircled dresses and none work if your petite. Would love to see more dress in petite sizing, I and others have asked for years, still nothing except the chrysalis cardi. I also love how more colors came out for this item. Would love to see this in the color Scarlet Red.
Customer Service
I am so impressed with the customer service. My first delivery was lost, after not receiving, they quickly answered my emails and sent a new shipment. It was a pleasure dealing with them. So far I am loving the material of the Chrysalis cardi. I am locking forward to use it different ways at home and when I travel.
Fabulous Christmas gift!
Love this! I have enjoyed my grey medium one for years, but this maxi is even better and I love the cinnamon colour!
Good concept, Really bad quality
I bought this but when trying the different ways to wear it the snaps broke. I have been trying to return the order and customer service has not sent me the return label yet. It is getting frustrating. I order multiple items with the hope that if I did not like, I could return it. Still waiting for the return label..
It's order Italy
Still experimenting
I am 5'4" 150 36 C bought petite wondering
If I should go up In size? Love the softness & purple
Color!
Chrysalis Cardi FAQs
What size should I choose?
Check our size chart. If you're in between sizes, size up!
What does the fabric feel like?
The modal fabric is super soft, drapey and stretchy. It feels like a worn-in t-shirt but dressy! We use a certified blend of Modal that's sustainable sourced and free of harmful chemicals.
Why is the Chrysalis Cardi so expensive?
At Encircled, we believe in investing in quality over quantity in your wardrobe. The Chrysalis Cardi is just that. The fabric is sustainably-sourced and certified by OEKO-TEX 100 Standard. The Chrysalis Cardi also features hand-sewn snaps which is a very difficult and time-consuming process to apply. This makes it harder to see the snaps when wearing. The Cardi is also incredibly well-made by fairly paid sewing teams who are local to Encircled. We're proudly 100% made in Toronto, Canada. Lastly, the Chrysalis Cardi will replace at least 5+ pieces in your travel wardrobe, so if you think of the cost per wear, it will seem like an amazing value.
Does the belt come with the Chrysalis Cardi?
Yes, we include a belt made from the same fabric as the Chrysalis cardi. It's long enough to wrap and tie easily. Feel free to use it or replace it with your fav stylish belt for a different look!
How long is the Chrysalis Cardi?
Check out the size chart! Generally, it will hit at the knee length for all dress options.
How do I care for my Chyrsalis Cardi?
We recommend gentle wash, cold water with an eco-friendly, mild and fragrance-free detergent. Hang to dry. If they wrinkle, we recommend using a steamer, or an iron between a towel. If possible, put the Cardi in a lingerie or wash bag and undo snaps before washing.
How can I figure out how to wear all the looks?
The Chrysalis Cardi comes with an instruction booklet. We also have detailed videos on how to do each look here.
AS SEEN ON
A fantastic piece for travel
Diane, OuiinFrance.com
I have worn this amazing piece of fabric in more than 10 different ways, in more than 10 different countries.
Brie, TheTravelMedley.com
I love my Encircled Chrysalis Cardi and am already planning to bring it on my next big trip!
Caroline, HerPackingList.com
It was so flattering yet comfortable, which made me feel effortlessly confident.
Alex, TravelFashionGirl.com
For the versatility factor alone, I would highly recommend the Chrysalis Cardi.
Esther, LocalAdventurer.com
High-quality, made locally.
Effortless style, quality, comfort, ethics and (genuine) sustainability — we compromise nothing, so you don't have to either. Proudly one of a handful of Women-owned certified B Corporations in Canada.
Easy, Stress-Free Returns
Not that you'll be returning these. Trust us. But if you do happen to get the wrong size, it's no biggie. Send back your items within 30 days to receive an exchange or refund, hassle free.